Polenta al Cucchiaio with mushrooms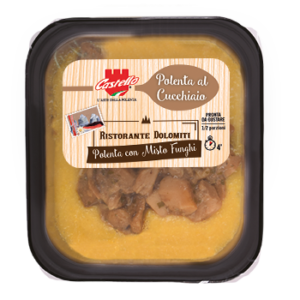 A classic during the autumn and winter months, especially served piping hot and steaming, polenta with mushrooms is delicious and enjoyed by all.
Polenta al Cucchiaio con Misto Funghi di Castello is ready to heat up in 4 minutes. Once opened it will keep for two days in the fridge and then you can gratinate it in the oven covered with grated Parmesan cheese.

Nutrition facts
Energy: 461kJ(110kcal)


Fat: 6,2g | Saturated: 0,7g


Carbohydrate: 12g


Sugar: 0g


Protein: 1,6g


Salt: 1,1g